How to Save Time With Case Management
Discover how case management software can save your nonprofit organization valuable time and resources.
Stay up to date
Sign-up to get the latest news, updates, and resources to help your organization make an impact.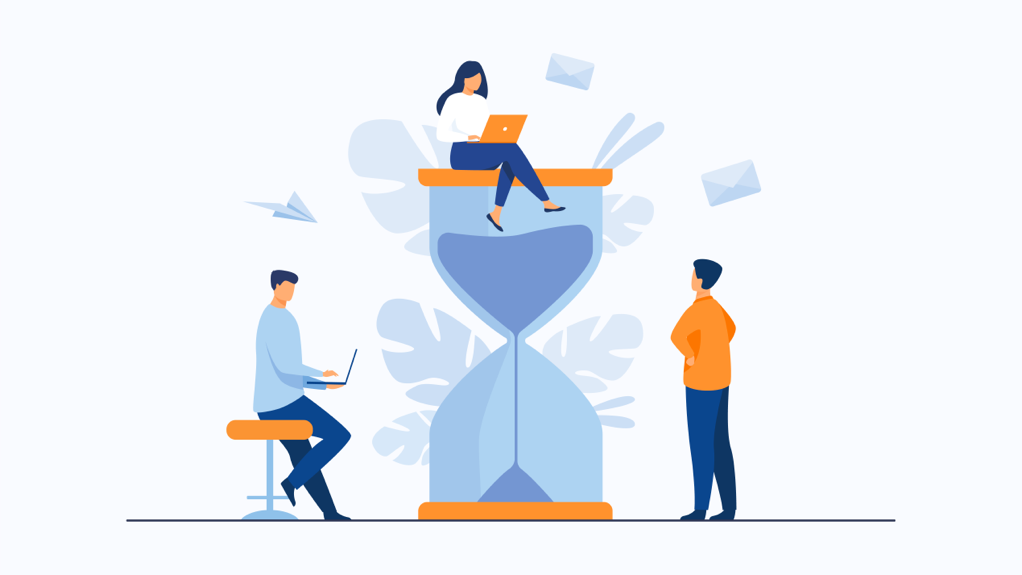 If you work for a charitable organization, you know firsthand that time is of the essence. Whether you're providing shelter and safety or disaster recovery and food provisions, your ability to rally resources effectively can be pivotal for clients in need.
At CharityTracker, we also know that your time is crucial. As a case manager, time is an essential part of your day, and effectively managing your time is key to creating impact.
Your success is central to what we do, so we designed these time-saving tools to help you. We don't build software in a vacuum; we build it according to your needs.
Let's face it, you're busy with many moving parts, and time management is critical for productivity. Being able to streamline everything into a fluid process can help you, your clients, and your agency work more effectively and efficiently.
That's why we created CharityTracker, to reduce headaches, eliminate missing data from reports, and focus on the work that inspired you in the first place. To learn more about specific case management tools that help save time, read more below.
‍
Allow Clients to Skip the Line with Kiosk Mode and Remote Intake
Give your team their precious time back. After the first initial wave of COVID-19, we introduced our remote intake tool, allowing clients to save time and directly enter their information while reducing points of contact during the pandemic.
The pandemic undoubtedly altered the processes that many nonprofit organizations used to provide assistance. With social distancing and many protocols still in place, the client kiosk and remote intake tools have been a game-changer for many agencies by providing accessibility and time-saving capabilities while still capturing crucial client data.
Many agencies now have a kiosk in their waiting room where clients can enter their own information without involving the receptionist, saving time for everyone while still collecting important data.
When using kiosk mode, simply hand over an iPad or set up a computer in a registration area where the client can fill out their own intake form. You could even enlist volunteers to handle intake responsibilities while you focus on larger assignments. Alternatively, you can share and email a secure link to the client to have them fill out their own intake and submit a request for assistance remotely.
Agencies can even post the link on a public-facing website to save more time as clients can fill out and upload information from the convenience of their own homes, giving the client control over the input process.
Many agencies prefer to send prospective clients the link to the input form before ever meeting with them. Once the information is completed, the agency will schedule a time to meet with or assist the client, and the client will not have to wait in the reception area, reducing the overall time required to intake new clients.
Save time with case management software by allowing your clients to perform their own intake and request assistance digitally from anywhere with digital signature capture for agreements, forms, releases, and anywhere else signatures are required. Digital client intake forms and service submissions make it simple for people to apply for the services they require by submitting requests online.
Meet Clients Where They Are with Client Scheduling
Spending time with clients is an important aspect of your job, and managing and organizing time for them, and yourself benefits everyone in the long run.
Maintain individualized care by streamlining processes for faster, more efficient client scheduling.
With case management, you can save time by easily creating and configuring appointments for your clients with improved client scheduling tools. Allow clients to request virtual appointments that correspond to their schedule and availability. You can better manage and organize your time using recurring or fixed-date appointments for your clients.
This tool enables an agency to effectively organize and manage their staff and agents' time, all within CharityTracker, by allowing agencies to use the calendar in the case/client system rather than a separate calendar in another window.
One agency that uses CharityTracker said it was extremely helpful in reducing client no-shows because you can send an automatic email reminder to the client about their upcoming appointment. Because everyone is so busy, the reminder keeps everyone focused on meeting commitments and has cut down on missed appointments by 50%.
Case management equips you with the tools you need to modernize the assistance process, maximize impact, and manage your time effectively. This way, workers, volunteers, and employees can spend less time on the phone scheduling appointments and more time focusing on projects that benefit the community.
CharityTracker is also currently developing a tool that will allow clients to schedule appointments based on their calendar and availability.
‍
Speed-Up Intake with Barcode Scanning & ID cards
With food insecurity at an all-time high, barcode scanning may be the hottest tool right now because so many pantries use it, significantly shortening the line.
You and your team can open cases and add assistance records using barcode scanning capabilities, as well as print and use scannable ID cards to further speed up intake procedures and drastically cut down on data entry time.
CharityTracker ID cards and barcode scanning integration for clients and assistance can be printed and used without the need for expensive hardware.
Many clients have testified to waiting in line for hours before a distribution, often in the heat or cold, as the line stretched out around the agency. Now, agencies are constantly telling us that implementing the barcode and ID card scanning tool has reduced client wait times from hours to minutes.
The client ID card tool enables an agency to create a card, typically an Avery business card, and even include a photograph of a client by using a webcam. When a client arrives, the agency simply scans their identification card, and CharityTracker retrieves their case file. This saves the agency time in searching for the specific client, and the picture identification allows them to confirm that the person in front of them is the exact person receiving assistance.
The scanning tool also enables agencies to scan the back of a client's driver's license and capture and record the visit with the help of a unique code.
The barcode scanning tool in CharityTracker allows organizations to create barcodes and associate them with resource items. The code can be scanned with a barcode scanner as the items are distributed to clients, and the item will automatically populate within the client's case file. This saves time by capturing the information without manually entering it into CharityTracker.
No More No-Shows with Client Broadcasts
The above-mentioned client scheduling is only effective if your clients show up for their appointments.
Communication is key to success in most organizations. Communicating with your clients in real-time is important, and connecting through their preferred channels is the most efficient way to reach them.
Everyone texts these days, and we all know that a text message can convey a lot of important information. Research shows that SMS marketing has a 98% open rate, compared to 20% for email. This indicates that clients are more likely to open broadcasts and reminders sent via text message, so SMS broadcasting is critical to your case management strategy.
With the client broadcast tool, an agency can keep their clients up to date on important information, such as outreach events, in real-time and even personalize messages that require that level of attention. Client broadcasts and SMS messages can assist you in reminding your clients of important meetings or appointments so that no time is wasted.
Case management software enables you to communicate with users by sending bulk or one-on-one SMS text messages or text-to-speech messages, as well as area-wide client broadcasts, to ensure that everyone is on the same page.
For example, when there was a major peanut butter recall a few months ago due to listeria, the responsible agency was able to run a report, focus on which clients received the peanut butter, and send them a text message advising them to discard the item.
This personalized capability has assisted in keeping organizations and agencies informed and has been especially beneficial when it comes to specific times and dates when outreach and assistance are provided, allowing everyone to manage their time.
Case management improves your ability to serve clients and manage individual cases in more efficient and meaningful ways. These time-saving tools are crucial and have proven effective in assisting case managers in managing the one resource that enables them to assist others the most: time.
Case management gives you the tools needed to simplify the assistance process, maximize impact, and manage your time wisely. CharityTracker's cloud-based case management system provides all these tools and more without start-up fees and free customer support.
You can learn more about CharityTracker's time-saving case management tools by requesting a free demo or visiting our website.